Holiday Gift Shop Season is coming!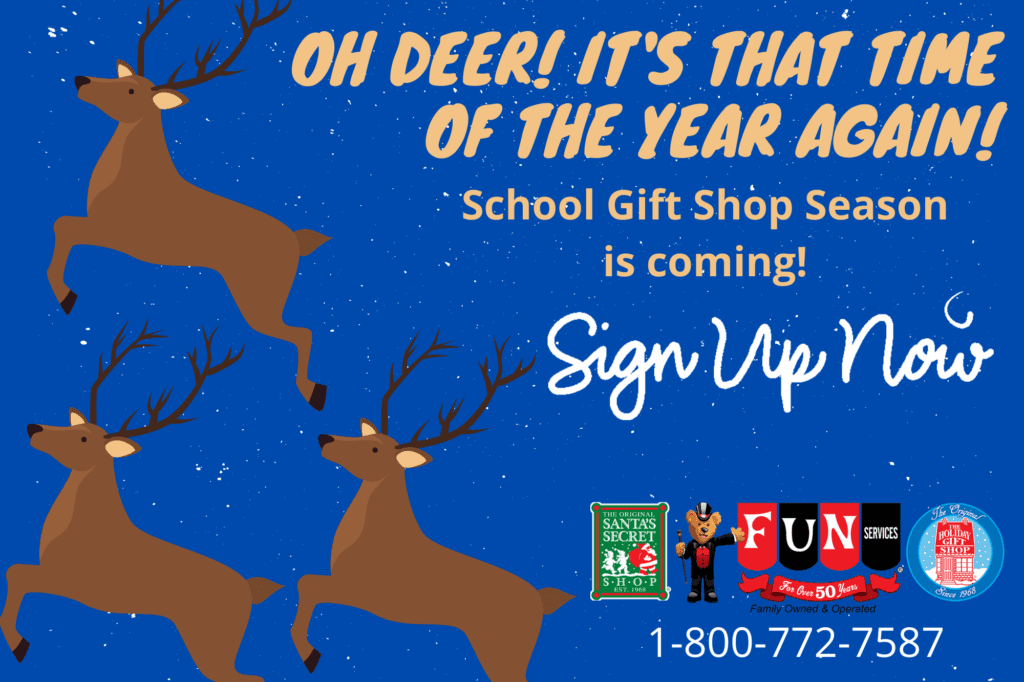 School has started, the leaves are starting to change, fall is starting to sneak in, and above all else parent groups are planning the school year.  Be sure to include Fun Services in your plans.  We have the Original and best Holiday Gift Shop®/Santa's Secret Shop® both programs are consignment based, so you and your school have zero out of pocket expenses, simply put you only pay for what gifts you sell.  The only difference between the two programs is the logo and name.  One is more generic for schools that would rather not use the term Santa. 
One great way to decide is to see our gift line live and in person at one of our Fall Open Houses.  We travel the state and bring the gifts to you!  If we are not near you, or our schedules don't align, reach out, we'd be happy to attend a Parent Meeting either live or via Zoom. See the full schedule HERE.
We are always happy to answer any questions you might have about what sets our program above the others.  We appreciate it when schools choose local over out of state companies.  We know we can provide a level or service they can not simply by being here in the same state.  We hire our drivers, we hand deliver the gifts to your school, we employ "elves" that help us pack up the gifts for your school.  Gifts will come sorted by price with easy set up instructions.  We don't stop helping once you've signed up with us, we answer questions all along the way, we work late and early so you can rest assured your school will be taken care of, it's part of choosing a family owned and operated company.  We care about the children shopping and want to ensure they are taken care of.  Snow day?  Power Outage? We've dealt with it all over the years and have solutions.  Give us a call today at 1-800-772-7587 to let us know you'll be coming to an Open House or to sign up today.